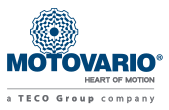 SALES CONDITIONS - INDIA
COMPLAINTS
Any complaints or claims made by the buyer on the finished product must be notified to the seller in writing within 8 days of the date of receiving the goods.
WARRANTY
Motovario Group guarantees the product sold for 12 months from the date delivery warranty is limited to repair or replacement, free at our plant, of defective parts due to an ascertained defect of material or manufacture. The parts replace remain our property. All other compensation is excluded, not can any direct and/or indirect damage by claimed of any nature, (for example, oil seals or lubricants leakages cause by normal wear). Warranty is excluded for materials and parts object to natural wear or deterioration instructions or that are any how modified, repaired or even partially dismantled, or stored, installed, maintained or lubricated not in a proper way. The warranty is also excluded for damages, defects or malfunctions caused by external components (such as, for example, couplings, sprockets, pulleys, motors not produced by Motovario, etc.. ) or by incorrect installation of them. Verifying the compatibility of applications and correct mechanical couplings and electrical connections with the specifications of Motovario products, as indicated in the manufacturer's catalogues is solely to the concern and responsibility of the buyer.
LIABILITY FOR DAMAGE
The liability of Motovario Group is strictly Limited to the above-stated obligations and it is therefore clearly agreed that we take on no responsibility for any damage deriving from accidents of any nature that may occur during use of the products sold, whether they be considered defective or otherwise, also in cases of the choice of application being recommended by personnel of the Motovario Group Sales Organization. When applying geared or motorvariators the user is in any case obliged, under his own exclusive responsibility, to proceed with the utmost prudence and make provision for safety devices in conformity with the applicable directives, standards and technical regulations, and anyhow adequately to limit damage to persons and/or property deriving from their possible defectiveness.
PLACE OF FUFILMENT AND JURIDICTION
The place of fulfillment for both parties is the supplier's offices. The jurisdiction for any dispute deriving of indirectly from the contact also in the case of lawsuits for bills of failure to pay cheques - is therefore for the Judiciary Authority of Hon. Kolkata High Court where the seller has its registered office. Relations between the parties are governed solely by Indian law.