APPLICATION DESCRIPTION
CLEAN DUTY is a solution developed by Motovario for the food industry and for all fields of application that require very high standards of hygiene. Clean Duty is made of AISI stainless steel and has been properly treated to prevent water and dirt from stagnating and depositing.
Clean Duty is a gearmotor ideally suited to the primary processing stage, for example on the packaging lines for fruit and other fresh foods. Its compact size and high-quality surface treatments ensure high resistance, especially in corrosive environments.
TECHNICAL CHARATERISTICS
Compact size, adaptability and corrosion-proof materials are the technical characteristics of the Clean Duty gearmotor.

SOLUTIONS FOR THE PRIMARY PROCESSING
Clean Duty by Motovario offers solutions that can be applied to food packaging, vaccination machines and transport lines. High-quality paints ensure suitable protection when working in very harsh and corrosive environments. The use of Clean Duty helps reduce consumption.
SOLUTIONS FOR SECONDARY PROCESSING
The food industry requires high standards of hygiene in all phases of work. The processes of cutting, slicing, dosing, packaging and temperature control (hot or cold) can be supported by the Clean Duty gearmotor made by Motovario, since the aluminium surfaces are chemically treated to ensure high resistance to washing with products with a pH ranging from 2 to 12, as well as with high pressure water. Motors have smooth surfaces with IP66 protection grade. Clean Duty adapts to various configurations and arrangement options.
SURFACE TREATMENT
HOW IS CLEAN DUTY TREATED?
The surface treatment of the Clean Duty gearmotor makes it ideal for the food industry.
STEEL-IT TREATMENT ​
STEEL-IT coating consists of AISI 316L stainless steel louvres of different grain sizes dispersed in epoxy resin.
It protects against:
• corrosion under harsh environmental conditions
• sea and salty water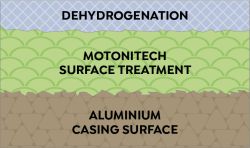 MotoNiTech TREATMENT
Thanks to the high chemical resistance of the coating and the complete coverage of the surface, this treatment protects against:
• the acids of food products
• washing with acids and alkalis with PH from 2 to 12
• high-pressure washing
• aggressive chemical solutions

TEST CARRIED OUT AND DETERGENTS SUPPLIED BY

Immersion corrosion tests have been carried out using the most representative detergents and sanitisers in the industrial cleaning market.
Download Files

Application sheet CLEAN DUTY

Leaflet CLEAN DUTY